Model Description
*** FREE DELIVERY UP TO 50 MILES *** £50 DELIVERY UP TO 100 MILES ***
Are you looking for your new 2022 Adventure bike?
At Omega Yamaha Centre you can buy your new Motorcycle or Scooter with the best deals in London.
Here is one of the best sellers of Adventure Bikes in the UK. With a Great price and no excess of electronics, the Tenere 700 became very famous for bikes looking to have fun while riding. Below you can see some features we offer and also the bike's information. Bear in mind this is the only and last unit in stock on this colour.
24 Months Factory Warranty,
1-year Road Tax Included,
3 Years MOT Exempt,
2 years roadside assistance free of charge (RAC),
No Extra Fees, OTR Included,
Free Data tool tracker* (only pay installation – subject to availability),
23 and 73 Plates Available,
PCP and HP Finance Available,
Nationwide Delivery *,
Competitive Price (Best Deals in London),
Clothing In-Store,
Bike and Rider Accessories Available in Store,
Authorized Service Centre (Workshop),
Off-site Purchase,
Video Call Available.
The original Ténéré helped to make Yamaha the most successful brand in the Dakar, with XT models taking 18 podiums in the first 6 editions of the world's toughest race. The pure race-bred DNA that conquered the desert has been passed through the generations to the Yamaha Ténéré 700 Rally Edition. And it shows.
** Dedicated Rally seat **
Slim, compact and ergonomic body and seat **
Akrapovic slip-on muffler **
Heavy-duty skid plate **
Radiator protector **
Lightweight double cradle tubular steel frame **
LED flashers **
Grip pads **
Off-road hand grips **
Model Specification
Variant:

700 ABS RALLY EDITION
Other used & new bikes in stock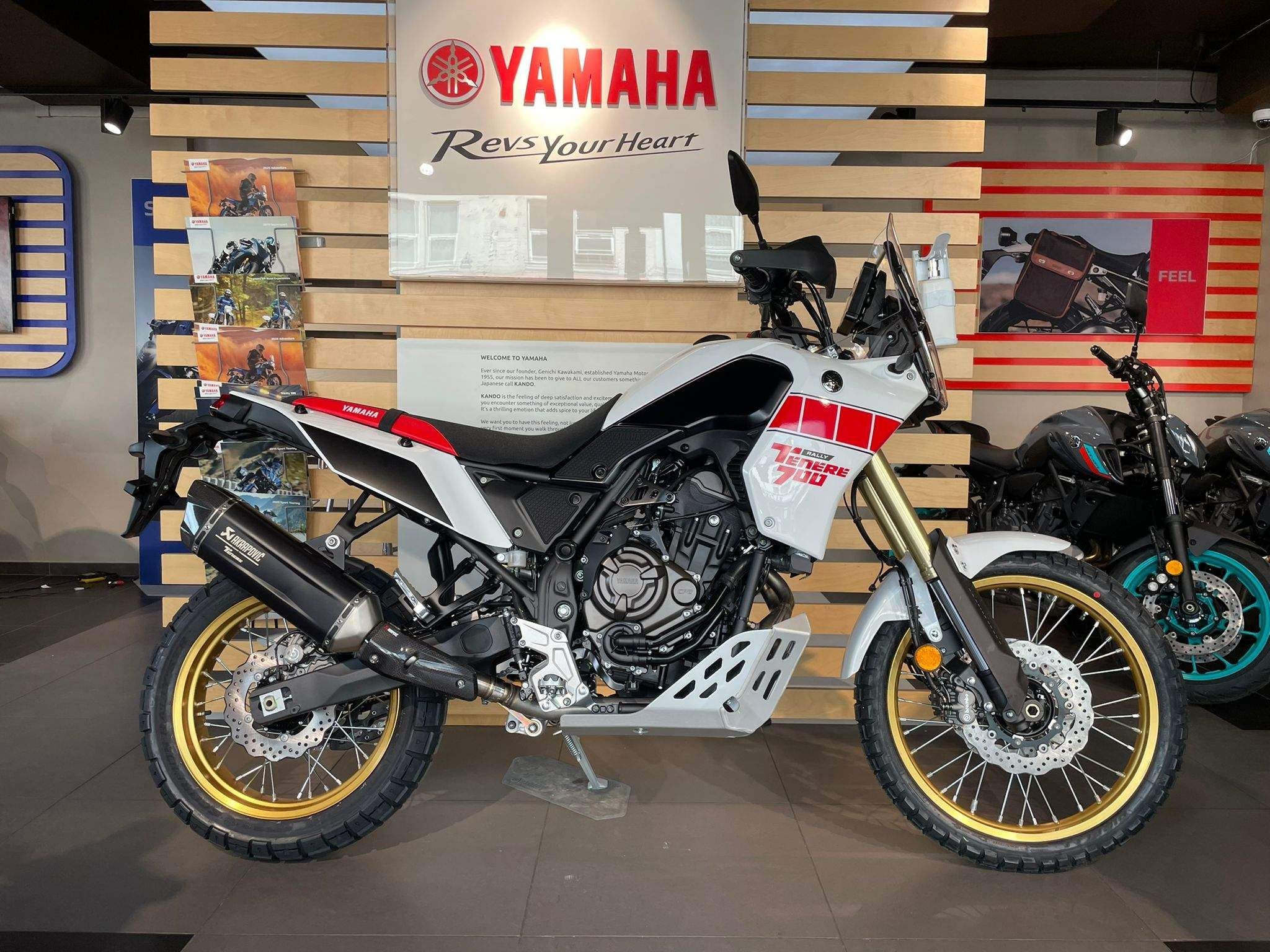 Brand Name
Product Name
Price
Product Availability